Promoting your rewards program is an incredibly important part of your business' growth strategy. Twism will display your business on the Twism mobile app and make your Rewards Coins, Offer Coins, and other campaigns available to all Twism users.
However, it is in your best interest to promote your program, coins, and campaigns to your existing customers that have not yet joined Twism. The most modern way to reach customers is through social media.
In the Twism dashboard, you will have access to Social Media Assets, where you can craft social media posts with provided templates to notify your customers that you have joined Twism and to let them know about the promotions you are offering. You can share to Facebook directly from Social Media Assets, and directly download these images to post to Instagram.
Additionally, we highly recommend that you place an Offer Coin unique link in the bio of your Instagram page. This unique link will direct existing Twism users to your Offer Coin in the app, and direct new Twism users to download the app. This will increase conversion of customers interacting with your rewards program.
Creating a Social Media Post
To create a post to promote your rewards program, Offer Coins, or other campaigns on social media, follow these steps
Go to Promote My Business > Social Media Assets.
If it is your first time visiting the Social Media Assets, an introductory message will appear. Click Explore the Marketing Center.
Select a template you would like to use to create your post.
In the Post Editor, edit the color, the title, the text and image to your liking. You can also adjust the sizing of the post using three options: Instagram story, Instagram post, Facebook post.
To save your post, click the Save button in the top right corner.


When you click the 'X' in the upper right corner to exit the Post Editor, you will be taken to your Post List, to view your library of created posts.

To design another post, click Create New Post.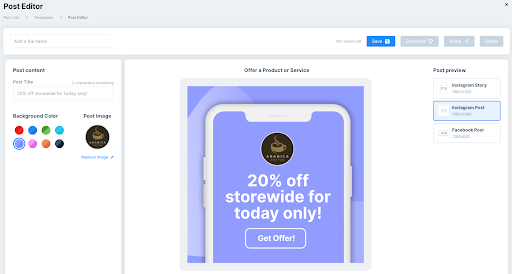 Posting to Social Media
To post on social media, select a post from your Post List in the Social Media Assets page, and click Share. Here you will have the option to share to Facebook or Instagram.
Posting to Facebook
To share via Facebook, follow these steps:
Click Share on Facebook. If you are signed in to your business' Facebook profile in the same desktop browser, you will be redirected to an auto-filled post on Facebook.
Make any edits to the text in your post
Click Post to share with your audience.
Posting to Instagram
To share via Instagram, follow these steps:
Click Share on Instagram.
Because Instagram does not yet support posting from a desktop, you can scan the QR code with your mobile device to save the images to your phone.
Then, open your business' Instagram account and create a post and/or story using the images saved.
Adding Unique Deep Links
On the right side of your dashboard's home page, you will see a box labeled Share your reward program on social media. Here you can post about your program on Facebook, Twitter, or copy your unique link to your clipboard.
This unique link will direct new users to a landing page giving an overview of your program, and redirect them to download the Twism mobile app.The app will open to your business profile after registration. We highly recommend adding this link to your Facebook posts and Instagram bio.
Twism also provides unique links for your Offer Coins. This link works similarly except the app will instead open to your Offer Coin after registration.
To access an Offer Coin-specific link, open the Twism dashboard and go to Promote my Business > Offer Coins > select an Offer Coins campaign > click Share > Copy Link. We highly recommend adding this in the caption of your Facebook posts related to this Offer Coin or in your Instagram bio.
Pro Tip: Rather than cluttering your Instagram bio with multiple website links, we recommend utilizing Linktree™. Linktree™ is a great tool used by some of the most popular brands on social media to connect their audience to all of their content with just one link. You can add your website, your Twism deeplinks and any other content to your Linktree™, and simply add it to your Instagram bio.