Setting up your Loyalty Rewards Program with Twism is quick and simple. We will walk you through the process of configuring your program so loyalty rewards are enticing for your customers, and simultaneously make sense for your business. Let's get you set up and get your customers back in the door!
Select POS System (In-store)
If your business operates In-store, you'll first be asked to select which POS System you use.
This will allow Twism to make the proper connections and ensure customers earn your branded coins at each purchase.
If you use Square, Twism has a direct integration. Please select these, enter your account credentials, and accept permissions to proceed.
If you do not use Square, simply select Other and click Next.
Select Platform (Online)
If your business operates online, you'll be asked to select the store platform that you use (Wix, Shopify, BigCommerce, WooCommerce).
This will enable Twism to display the Loyalty Widget on your website, and ensure customers earn your branded coins at each purchase.
Twism currently provides integrations for websites using Wix, Shopify, BigCommerce and WooCommerce. You'll need to select your provider, then click Next.
You will be redirected to an internal page within your provider. Simply accept the permissions, and you will be redirected back to Twism.
Rewards Rate
To set up your Loyalty Rewards Program, log in to your Twism dashboard and go to Loyalty Program > Rewards Rate > Set up Loyalty Rewards Program.
You will see the following modal to set the Rewards Rate of your Loyalty Rewards Program.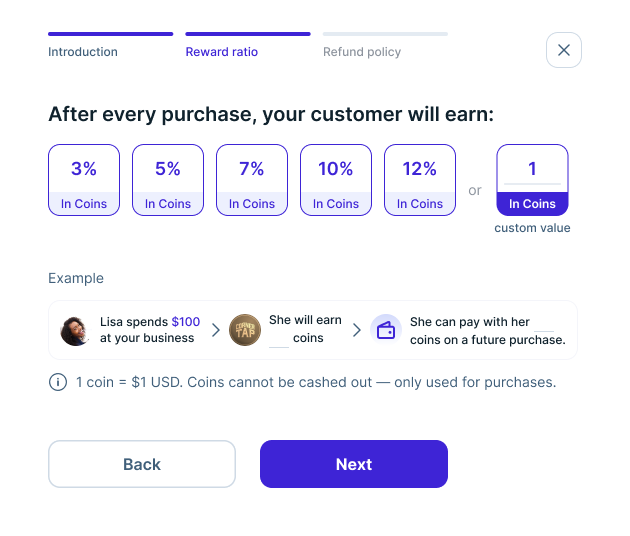 In this modal, you will set your Rewards Rate, which is the percentage in coins you will issue back to customers on each purchase. (Remember: 1 coin = $1 in value) Twism presents a few popular choices and the option to provide a custom value.
It is important to note that each time a customer makes a purchase, they will earn at least a fraction of coin based on the Rewards Rate you set. For instance, if you have set your Rewards Rate of 10%, and a customer spends $5.50 with you, they will receive 0.55 in coins.
Also, there is no current minimum threshold to earn rewards because with Twism, instant rewards means giving them instant gratification and value in every interaction with your business.
Remember, issuing coins to customers does NOT mean you will be giving away real money. The amount of rewards a customer can earn is completely in your control, and can be adjusted at any time. Your business is not giving away actual USD money, and is not charged every time a customer earns a coin.
Your customers simply earn a coin which is equivalent to a dollar in their wallet, but when redeeming with your business, this represents the wholesale cost of your products or services, and a happy customer.
You can adjust your Rewards Rate at any time by going to Loyalty Program > Rewards Rate.
Pro Tip: When configuring your Rewards Rate, it's important to consider a balance between your customers' satisfaction with their incentives and your business' financial needs. When selecting your reward rate, you may consider factors such as average order value and profit margins.
Refund and Return Policy
Note: If your business is primarily a food/drink or service-based business that does not have a returns policy, we highly recommend keeping this setting as 'Instantly'. This way your customers receive their coins immediately after purchase confirmation, without delay.
For businesses that sell consumer products that are subject to returns, or simply have an existing refund policy in place, this setting is important to configure for the security of your Loyalty Rewards Program and prevent customers from gaming the system. By setting your refund policy in Twism, you create a buffer period for customers' coins to be activated. For instance, if you have a 14 day refund policy in place, a customer will earn coins upon purchase, but will not have the ability to use those coins until the 14 days have passed and purchase confirmation has been received. During this time, coins will appear in a customer's wallet as "pending".
When setting this configuration, Twism provides some common options, or you may select a custom number of days. To set your refund and returns policy go to Loyalty Program > Refund & Return Policy.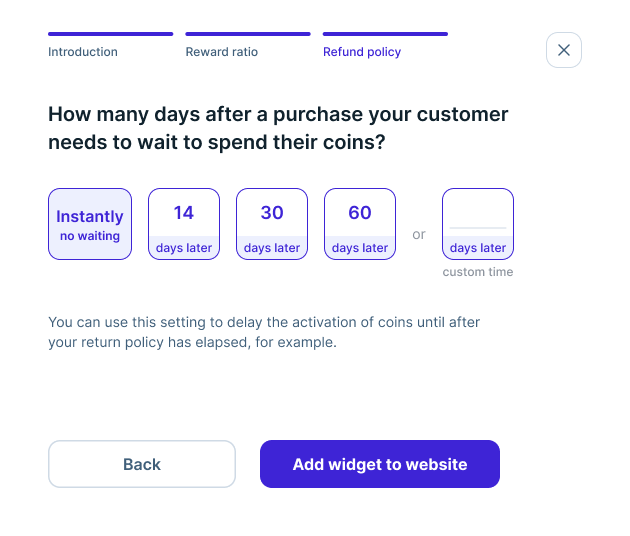 Widget Customization and Activation
If your business operates online and has connected to Twism via one of our supported providers, the Loyalty Widget is a core piece of your Loyalty Rewards Program. The Loyalty Widget displayed on your website is a tool for your customers to earn, track, and redeem their rewards all from your Wix, Shopify, BigCommerce, or WooCommerce website.
Before activating your widget, you will have the option to decide the color of the widget, a welcome message to fit your website's theme, and the positioning of where it will be displayed on the screen. To enable your widget, go to Loyalty Program > Widget.